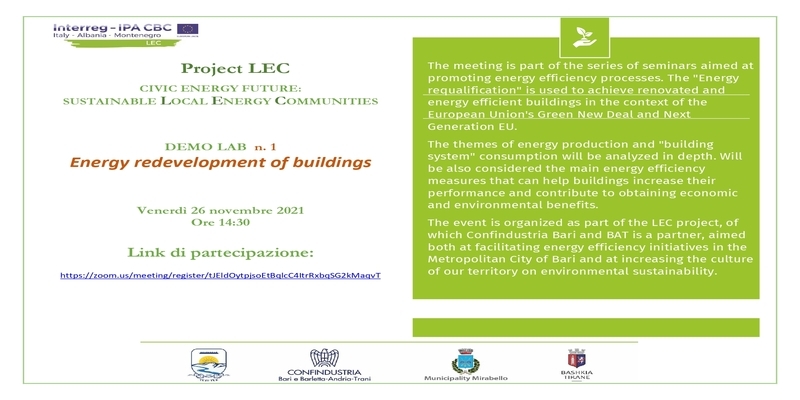 Confindustria Bari e BAT organizes Demo Labs within project LEC
Overview
On Friday 26 November 2021 the Confindustria Bari e BAT organizes two Demo Labs within project LEC.
The first one is "Energy redevelopment of buildings" which is part of the series of seminars aimed at promoting energy efficiency processes. The "Energy requalification" is used to achieve renovated and energy efficient buildings in the context of the European Unions Green New Deal and Next Generation EU. The themes of energy production and "building system" consumption will be analyzed in depth. Will be also considered the main energy efficiency measures that can help buildings increase their performance and contribute to obtaining economic and environmental benefits.
The second one is "Main purposes for energy redevelopment" will focus on the main objectives of energy redevelopment to optimize the energy management and the use of resources, in the perspective of efficiency, savings and reduction of pollutant emissions, for the renewal of real estate assets and the economic value of buildings renovated, both public and private.
Download the agenda of the events.