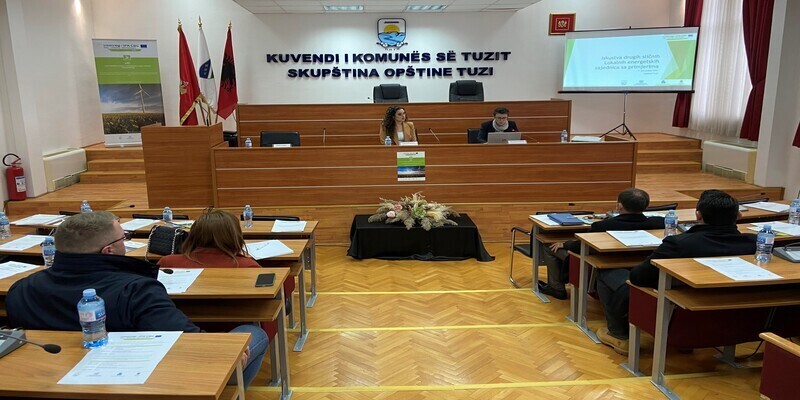 Local Press conference and Workshop for the creation of the Local Energy Community in Tuzi
Overview
Today, Municipality of Tuzi, within the LEC project, presented the innovative LEC model at the Local press conference and also the local workshop where citizens, organization, public institutions and private companies were informed about LEC model for a sustainable municipality to the target area users.
The local press conference and Local workshop were opened by the Mayor Mr Nik Gjeloshaj.
Expert for energy efficiency Ms Biljana Gligorić introduced the participants the LEC agreement which was signed between stakeholders (users / citizens, organizations, public institutions, private companies) and the municipality.
After the signing of the LEC agreement, the Local Energy Community in Tuzi was established, which is the foundation of local self-government in terms of joint activities in energy efficiency.
Through this agreement the above-mentioned stakeholders are committed to participate in the LOCAL ENERGY COMMUNITY in Tuzi with the following roles:
- to promote the energy efficiency and energy transition policies and contribute concretely to the territory's development
- to promote and enhance actions to promote energy saving to raise awareness of the local citizens
- to plan a system of incentives for the realization of alternative energy plants
- to promote the achievement and exploitation of the results of the LEC project, within a wider local community to make it an active part in the implementation of activities and beneficiary of the impacts and positive effects of the project itself
- to promote the provision provision of innovative technological services
- to encourage the creation of new models of Local Energy Communities developing strategies and tools for local energy systems in collaboration with local authorities
- to encourage an energy transition towards a more decentralized, more efficient, more flexible, and mostly based on energy produced from renewable sources.